Happy Friday!
Welcome to Agtech Action. 
This is the last Agtech Action written by me (for a while, at least...who knows, maybe I'll make a guest appearance some time…) I'm stoked to introduce you to Brandon Day, who, among many other things at the Yield Lab Institute, will be taking over responsibility for this newsletter. PR coming next week, but you guys get the early scoop. Definitely reach out to Brandon@theyieldlab.com to welcome him aboard. He's ALMOST as excited about the opportunities within agrifood technology as I am (maybe even on my level :) .) 
Quick Connie update: I've taken an opportunity to build a new company, Farmacopia Farms. We're building a new farm-to-consumer brand that enables good farmers to profit through vertical integration. Buy some hemp products (or stay tuned for hazelnut…my weekend plans involve large quantities of hazelnut and chocolate…new product coming soon.) I'm staying engaged with the Yield Lab Institute as a board member. Reach out to me at connie@farmacopiafarms.com if you'd like to learn more (or, catch me on AgGrad Live this upcoming week.)
Now on to the good stuff (warning, more text than usual here...not sure if you'll miss my unsolicited opinions/comments on things, but I'll miss sharing them!)
Applications & deadlines:
My personal favorite accelerator, The Yield Lab North America is open until Oct 25th! Apply today! ($100k investment, 1on1 mentorship, and access to an awesome, ever-expanding global network)

IMPULSE, a 12- week acceleration program for innovative startups that have a prototype or a marketable product in the fields of Agtech, Biotechnology applied to Agriculture, Mining Technology or Materials Science & Nanotechnology. Applications close in 10 days on Oct 1 - learn more and apply now!

Don't forget to nominate folks for Forbes 30under30! (here's hoping they don't let the 100-most-innovative(dudes+1 woman) guys run the selection committee this year…)
Opportunities:
Solutions:
Policy:
Finance:
Fun:
An interview with Meat Planet author, Benjamin Aldes Wurgaft < Adding this to my to-read book list (finally got through The Wizard & The Prophet on my drive from STL to Oregon...that's definitely worth a read for everyone on this listserv...though honestly, cliff notes version would probably suffice.)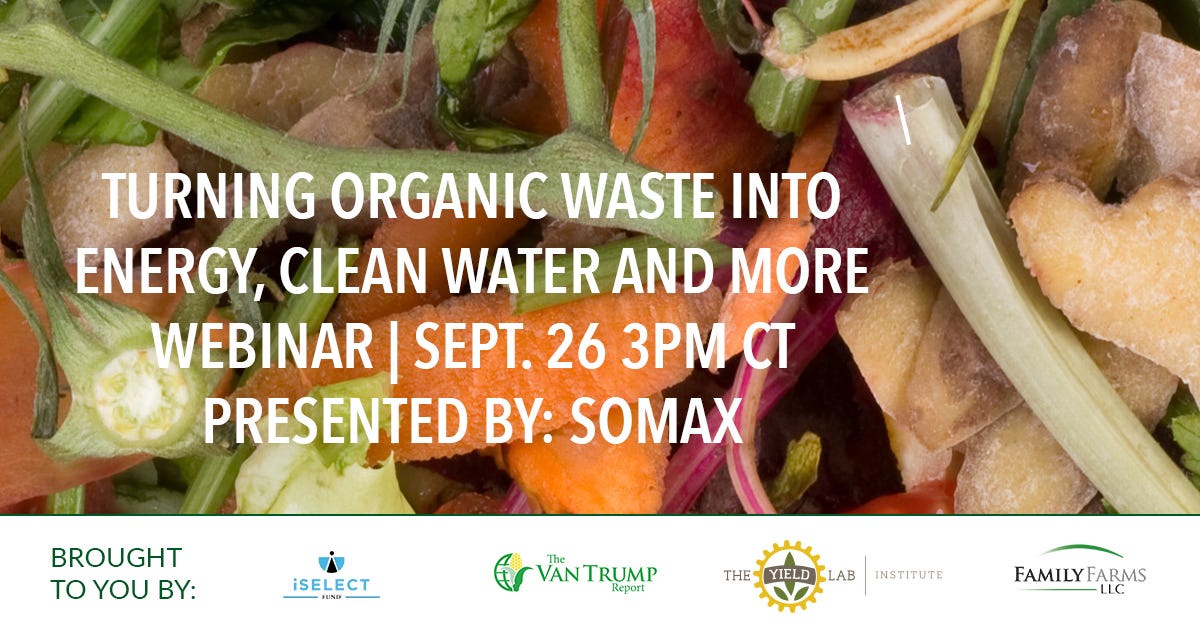 This week's Agrifood Conversation Webinar, "Turning Organic Waste into Energy, Clean Water and More," will feature Dan Spracklin, CEO and founder of SoMax BioEnergy. Register here, and tune in on Thurs, 9/26 at 3pm CDT.
Thanks as always, for reading! I'll miss my fun Friday-night newsletter time and your responses, but I'm sure I'll run into most of you at one point or another in the wonderful world of agrifood tech!
Have a great weekend,
Connie